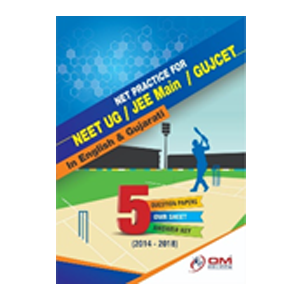 Net Practice for NEET – JEE Main – GUJCET in English and Gujarati
---
These are 3 different Books
NET PRACTICE FOR NEET UG in English and Gujarati
NET PRACTICE FOR JEE Main in English and Gujarati
NET PRACTICE FOR GUJCET in English and Gujarati
Net Practice for NEET UG / JEE Main / GUJCET:
Only Highly IMP MCQs
Question Papers
OMR Sheet
Answer Key
This book provides the perfect solution for the questions arise in the mind of students of 11th and 12th science (A Group) about their future career.
Many questions arise in the mind of 10th,11th and 12th science(A group) students about their future such as
What to do after 12th Science?
How to get admission?
What are cut-off Marks?
Where you can get admission like in Gujarat, in other state & in abroad.
These are the best books which provide above and many more other Information related to NEET UG, JEE Main and GUJCET Exams. These Books are published By Om EDUCON PVT. LTD. & Written by Dr.Umesh Gurjar (M. D. Physician, D.G.O., DNHE, CAFÉ)